Global Civil Society & the UN Sustainable Development Goals
UIA is proud to present the new Volume 6 of the Yearbook of International Organizations, entitled Global Civil Society and the United Nations Sustainable Development Goals.
There can be little question as to the relevance of the new topic. The United Nations Sustainable Development Goals (the UN SDGs) are informed by and in turn inform all gobal civil society actors. This 55th edition of the Yearbook contains 38,395 currently active international bodies. What, we asked, is their link with the UN SDGs? Which of the UN SDGs concern them? With which SDGs should they be concerned? What communities of international bodies form around each of the SDGs?
Choose a goal below to view more information and a list of associated organizations:
Supercentenary of the the First World Congress of International Organizations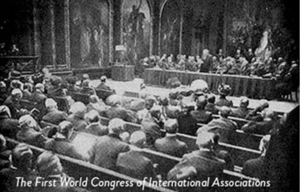 On 9 May 1910, at the Palais des Académie in Brussels, the First World Congress of International Organizations was convened. The representatives from 137 international civil society bodies and 13 governments present formally agreed to transform the Central Office into the Union of International Associations. The new UIA was to provide services including management of relations between international associations, study of questions of common interest, creation of new organizations, international instruction, management of publications and documentation, and other general services.

UIA regrets that, due to the current global health risks and the restricted movement those risks impose on us, our Supercentenary celebration is cancelled. We hope to take up our plans again next year, for the 111st anniversary.