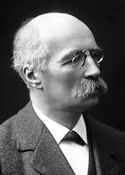 "The peoples are not awake...[There are dangers] which will render a world organization impossible.
I foresee the renewal of...the secret bargaining behind closed doors. Peoples will be as before,
the sheep sent to the slaughterhouses or to the meadows as it pleases the shepherds.
International institutions ought to be, as the national ones in democratic countries,
established by the peoples and for the peoples."
     - Henri La Fontaine
Henri La Fontaine (22 April 1854 - 14 May 1943) was born in Brussels, Belgium. He studied law at the Free University of Brussels, and was admitted to the bar in 1877. In 1893, he became professor of international law at the Free University of Brussels, and two years later was elected to the Belgian Senate as a member of the Socialist Party. He served as vice chairman of the Senate from 1919 to 1932.
La Fontaine entered the organized peace movement when Hodgson Pratt, the British pacifist, came to Belgium in the early 1880's to establish a branch of the International Arbitration and Peace Association. He went on to become the Secretary-General of the Société Belge de l'Arbitrage et de la Paix in 1889, and participated actively in nearly all peace congresses held in the following 25 years. He served as president of the International Peace Bureau from 1907 until his death in 1943, and was influential in the Bureau's efforts to bring about The Hague Peace Conferences of 1899 and 1907. La Fontaine was awarded the Nobel Peace Prize in 1913 in recognition of his contribution towards the peace movement. He was a member of the Belgian delegation to the Paris Peace Conference in 1919, and to the League of Nations Assembly (1920-1921).
In other efforts to foster world peace, he founded the Centre Intellectuel Mondial, which later merged into the League of Nations Institute for Intellectual Cooperation. He is the co-founder of the Institut International de Bibliographie along with Paul Otlet, and it was in this role that he and Otlet attended the World Congress of Universal Documentation in 1937.
La Fontaine was a leading spokesman and advocate for women's rights. He was appointed secretary of a technical school for young women in 1878; he wrote La Femme et le barreau in 1901, taking an advanced position on the place of women in the legal profession; and he was president of the Association for the Professional Education of Women.
Selected works by Henri La Fontaine:
Les droits et des obligations des entrepreneurs de travaux publics (1885)
Traité de la contrefaçon (l888)
Manuel des lois de la paix: Code de l'arbritrage (1894)
Pasicrisie internationale: Histoire documentaire des arbitrages internationaux, 1794-1900 (1902)
Bibliographie de la Paix et de l'Arbitrage (1904)
The Great Solution: Magnissima Charta (1916)