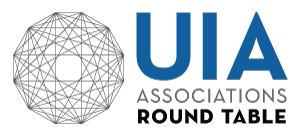 Date & Venue
Friday 13 November 2015
Crowne Plaza Brussels - Le Palace Hotel
3 Rue Gineste, 1210 Brussels, Belgium
Committed to

Contact us
Questions about the Round Table, or about joining us as a partner for future Round Tables?
We are happy to hear from you!
Nancy Carfrae,
We thank everyone who contributed to making the 9th UIA Associations Round Table Europe a success!
Thank you to all 192 participants for your presence, your discussions, your questions.
Thank you to the speakers for your ideas and enthusiasm and thought-provoking presentations.
Below are links to the speakers' presentations, photos of the event, and reports from the workshops.
Speakers' presentations
Communication strategies: getting the message across
facilitated by Ulrike Von Lonski, World Petroleum Council
Download Presentation (PPTX)
Volunteer driven organisations – is a professional approach possible?
facilitated by Valentin Dupouey, Erasmus Student Network
Presentation coming soon
Legal matters affecting the work of international associations
facilitated by Marleen Denef and Sarah Verschaeve, Curia
The slides used in the workshop can be obtained from marleen.denef@curia.be and sarah.verschaeve@curia.be
VAT and international associations
facilitated by Philippe Noirhomme, Belgian VAT Desk
Download Presentation (PPTX)
Panel: Where to find help (and how much you can expect to pay)
Panelists:

  Mieke Barbé, Meeting Professionals International
  Download Presentation (PDF)
  Elisabeth Van Ingelgem, visit.brussels
  Download Presentation (PPTX)
The UIA Round Table aims to promote and facilitate the work of international associations by providing learning and networking opportunities. We thank our partners for making it possible. They will be present, should you want to talk to them, but there will be no sales presentations in the programme: this is an event for training and networking.
HOST PARTNER

SPECIAL PLATINUM PARTNER

GOLD PARTNER