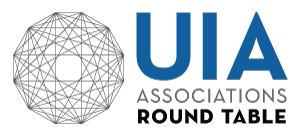 Date & Venue
Tuesday 29 September in the afternoon, and Wednesday 30 September in the morning
Venue: Centara Grand at CentralWorld
with the support of
Incentive Travel & Conventions
Meetings Asia (IT&CMA)
Bangkok, Thailand
Contact us
Questions about the Round Table, or about joining us as a partner for future Round Tables?
We are happy to hear from you!
Nancy Carfrae,
We thank everyone who contributed to making the 3rd UIA Associations Round Table Asia-Pacific a success!
Thank you to the association representatives for your participation, your ideas, your questions. We were delighted to be able to welcome a record number of international association representatives.
Thank you to the speakers for your thought-provoking presentations and lively discussions.
Thank you to our partners at the Thailand Convention & Exhibition Bureau for your warm welcome, your attention to detail, your immediate response to our every need. And also for the good food!
Thanks also to the Centara Grand , Destination Asia, Thai Airways and TTG Events for their support.
You can find the speakers' presentations, a list of participants, and photos below.
Speakers' presentations
International associations: pioneering roles in society
Opening keynote by Laura Lopez, Director of Strategic Publications, Communications and Advocacy at the UN-ESCAP - the United Nations Economic and Social Commission for Asia and the Pacific
Download Presentation (PPTX)
Why Your International Association Needs Good Structure, Governance and Plans
facilitated by John Peacock, Associations Forum
Download Presentation (PPTX)
Panel discussion: Crisis and victory: the experience of associations in meeting challenges
- Esther Chong, Singapore Business Federation, speaking on the challenge of encouraging corporate activism for an inclusive society
Download Presentation (PPT)
- Ryan Brubaker, UIA, speaking on the challenges of running of a secretariat spread across multiple continents and establishing a consistent visual identity for your association
Download Presentation (PDF)
Communication: the challenge of saying it right
facilitated by Clara Fernández López, UIA
Download Presentation (PDF)
The UIA Round Table aims to promote and facilitate the work of international associations by providing learning and networking opportunities. We thank our partners for making it possible. They will be present, should you want to talk to them, but there will be no sales presentations in the programme: this is an event for training and networking.