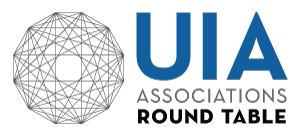 Date & Venue
Wednesday 22 and Thursday 23 October 2014
"Diamond Hall" at The Plaza Hotel
Seoul, Korea
We thank everyone who contributed to making the 2nd UIA Associations Round Table - Asia a success!
Thank you to the association representatives for your participation, your discussions, your questions.
Thank you to the speakers for your ideas and enthusiasm and thought-provoking presentations.
Thank you to our partners at the Korea Tourism Organization for your support, your professionalism, your attention to detail, and … the good food!
You can find the speakers' presentations, a list of participants, photos, and a report of the Round Table below.
Speakers' presentations
What do international organizations contribute to society? What stops them from contributing? What will they contribute in the future?
Opening keynote address, complemented by round table discussions, presented by Cyril Ritchie, Vice-President of UIA
Download Presentation (PDF)
Building membership value through connections and engagement
Presentation and plenary forum, presented by Greta Kotler, Chief Global Development Officer of ASAE: The Center for Association Leadership
Download Presentation (PPTX)
Crisis and victory: the experience of associations in meeting challenges
(1) Steve Tunstall, General Secretary of PARIMA - Pan-Asia Risk & Insurance Management Association, speaking on the importance of regional associations, and the challenges of creating one
Download Presentation (PPT)
(2) Henry Ta-Heng Huang, of the International Veterinary Students Association - IVSA, speaking on running an association with a high-turnover of board members and of membership in general
Download Presentation (PPTX)
(3) Dr Han Moon Hee, Korean Association Radiation Protection, speaking on hosting an international meeting
Download Presentation (PDF)
Mobilizing Global Movements for Good
Closing keynote address, presented by Jack Sim, Founder and Director of the World Toilet Organization
Download Presentation (PPTX)
Meet Mr. Toilet - Jessica Yu (Video)
UIA Round Table Asia 2014 Report
The UIA Round Table aims to promote and facilitate the work of international associations by providing learning and networking opportunities. We thank our partners for making it possible. They will be present, should you want to talk to them, but there will be no sales presentations in the programme: this is an event for training and networking.