Submitted on Tue, 23/06/2020 - 09:22
Development of New MICE Complex in Seoul Picks Up Speed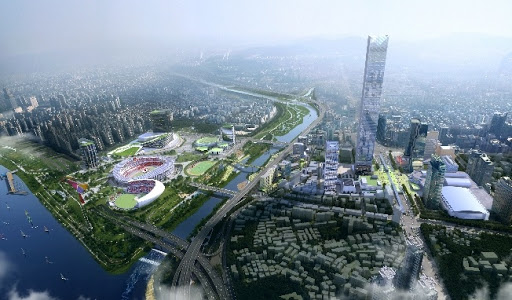 Photo: Rendering of new MICE complex in Seoul (credit: Seoul Metropolitan Government)
The construction of a new exhibition convention facility is set to begin in Jamsil, Seoul, on the grounds surrounding the current Jamsil Sports Complex.
Seoul Metropolitan Government announced on the 5th of this month that the eligibility study for the 'Jamsil Sports-MICE Private Investment Project' commissioned by the Korea Development Institute (KDI) in January 2017 was completed. Seoul Metropolitan Government plans to select the preferred candidates for negotiation in 2021 and will begin construction the following year, with an expected completion date sometime in 2025.
Located on the east side of Seoul, Jamsil is home to several key attractions, including Lotte World Tower, Seokchon Lake Park and Jamsil Sports Complex. The neighborhood is situated right next to and directly accessible by subway from COEX Convention & Exhibition Center, one of Seoul's main exhibition convention facilities.
The 'Jamsil Sports-MICE Private Investment Project' is a core project in efforts to continuously strengthen Seoul's urban competitiveness. It has been six years since Seoul Metropolitan City first designated the 19.9 million m2 area connecting COEX and Jamsil Sports Complex as 'International Exchange Complex' and began plans to foster the region. The long-awaited plan is finally beginning to pick up speed, and things are beginning to take shape for the 'MICE Valley' connecting COEX and Jamsil Sports Complex, as well as the Global Business Center (GBC), a new building which began construction last month.
The new Jamsil MICE Complex will cover an area of 334,605 m2, containing exhibition convention facilities, luxury hotels and sports facilities. The new exhibition convention center will have a total floor area of 120,000 m2, nearly three times the size of COEX Convention & Exhibition Center, and will form a 'MICE Cluster' in connection with COEX (47,000 m2) and GBC (16,500 m2). A new luxury hotel with 900 rooms will provide accommodation space for visiting MICE delegates.
The current Jamsil Baseball Stadium will be reconstructed in a new location by the Han River with 35,000 seats. Another sports complex facility will be built southwest of Jamsil's main stadium with a seating capacity of 11,000, providing a space for local residents and visitors to enjoy sports games and concerts. On the banks of the Han River, a waterside leisure facility (marina) will be constructed, along with a 5000-seat swimming pool.
An official from the Korea Trade Association stated, 'Seoul's total exhibition area has been at a standstill at approx. 64,000 m2 for the past 10 years. It is key that we secure enough exhibition area to compete with other leading exhibition convention cities in Asia, such as Hong Kong (200,000 m2 total exhibition area) and Singapore (240,000 m2).'